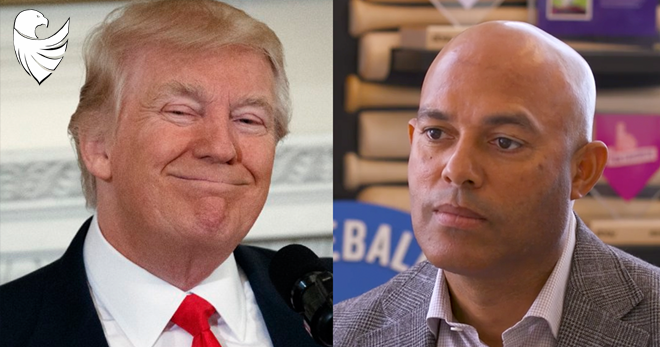 Despite being smeared by the liberal media, NY Yankees legend appeared on "Fox and Friends" where he doubled down on his support for President Trump.
WATCH:
From Yahoo
New York Yankees icon Mariano Rivera was recently inducted into the Baseball Hall of Fame as the first player to be unanimously selected.
With his enshrinement came criticism of his personal beliefs, with the Daily Beast criticizing him for his "far-right" politics ahead of his induction citing his alignment with "openly extremist and Islamophobic Pastor John Hagee" and serving "at the pleasure of a racist" President Donald Trump.
Among other things, the Daily Beast pointed to Rivera appearing at the White House for a friendly photo op and co-hosting an America First Action PAC fundraiser alongside Donald Trump Jr.
Trump, in kind, has voiced his public support for Rivera.
Congratulations to Mariano Rivera on unanimously being elected to the National Baseball Hall of Fame! Not only a great player but a great person. I am thankful for Mariano's support of the Opioid Drug Abuse Commission and @FitnessGov. #EnterSandman #HOF2019
27.9K people are talking about this
On Wednesday, Rivera responded to the Daily Beast piece, defending his support of Trump on the Fox News morning show "Fox & Friends."
Rivera talked about his devout Christianity that was strengthened by his belief that prayer saved his unborn son who was expected to die after his pregnant wife contracted chicken pox before answering questions about his support of Trump.
He told the "Fox & Friends" panel that he was friends with Trump before he became president and continues to maintain that friendship.
"Mr. President Trump — he was a friend of mine before he became president," Rivera said. "So, because he's president I will turn my back on him? No.
Source: theconservativeopinion
See more here: conservatives
loading...
If you like what we do, you can support us here:
Thank you and God to bless you!