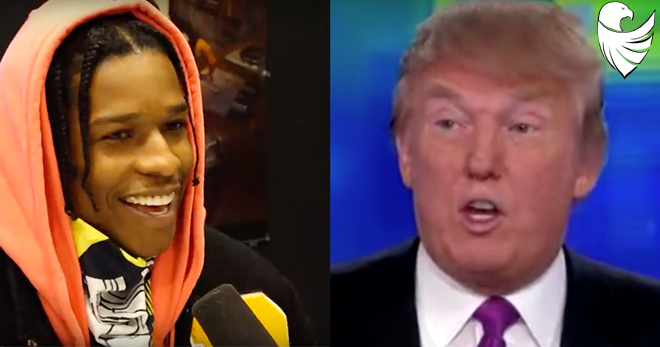 On Friday, President Trump took to social media to announce that he would be contacting the Prime Minister of Sweden soon, in order to secure the release of imprisoned American rapper A$AP Rocky, who has been incarcerated for weeks abroad.
Trump said that he had recently spoken to rapper Kayne West, a friend of Rocky's, and plans to call "the very talented" Swedish PM, Stefan Löfven, to get the American musician out of jail.
Rocky has spent weeks in jail after allegedly confronting two men who he believed were following him with ill intentions, leading to a scuffle and his arrest.
Just spoke to @KanyeWest about his friend A$AP Rocky's incarceration. I will be calling the very talented Prime Minister of Sweden to see what we can do about helping A$AP Rocky. So many people would like to see this quickly resolved!
204K people are talking about this
Social media praised Trump for the decision to intervene, with many pointing out that, despite the media and Democrats' frequent assertions that the president is "racist," his latest efforts to help A$AP Rocky seem to indicate otherwise.
1,942 people are talking about this
If President Trump is racist, he keeps doing it all wrong.
1,288 people are talking about this
411 people are talking about this
If President Trump is truly a racist, he's really bad at acting like one…

First the "First Step Act" and now this…

This President is truly a great man, who has been dragged through hell to save America!
880 people are talking about this
President Trump takes care of business like no one else, especially when a person has been wrongly convicted.
See Dawn Michael PhD

's other Tweets
The world's #1 Champion of Justice: President @realDonaldTrump!

No one cares more about the wrongfully convicted/wrongfully incarcerated!

Can't wait to hear the liberals complain about this one!
785 people are talking about this
loading...
If you like what we do, you can support us here:
Thank you and God to bless you!