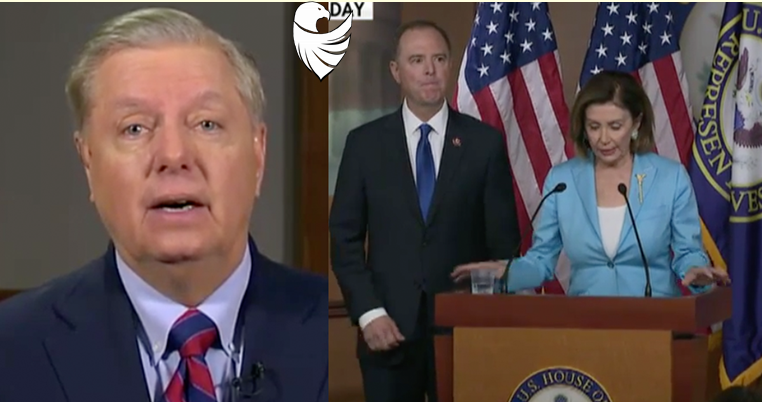 Senate Judiciary Committee Chairman Lindsey Graham made it clear during a Fox News appearance that if Democrats choose to impeach President Trump he feels the Whistleblowers must be "interviewed in public, under oath, and cross-examined."
President Trump has previously tweeted "Like every American, I deserve to meet my accuser, especially when this accuser"
Like every American, I deserve to meet my accuser, especially when this accuser, the so-called "Whistleblower," represented a perfect conversation with a foreign leader in a totally inaccurate and fraudulent way. Then Schiff made up what I actually said by lying to Congress……

— Donald J. Trump (@realDonaldTrump) September 29, 2019
Meanwhile, attorneys for the whistleblower have accused President Trump of putting their client in danger.
Per NBC News, the attorney for the intelligence community whistleblower whose complaint fueled a House inquiry into impeaching President Donald Trump says he has "serious concerns" that Trump's comments had put his client in danger.
The unidentified whistleblower's legal team sounded the alarm in a letter, dated Saturday and made public on Sunday, to Joseph Maguire, the acting director of national intelligence.
The letter, which was signed by Andrew P. Bakaj, the whistleblower's lead attorney, pointed to Trump's call last week for "the person who gave the whistleblower the information" to be publicly identified.
It said the president's remarks were among the events that "have heightened our concerns that our client's identity will be disclosed publicly and that, as a result, our client will be put in harm's way."
WATCH:
Fox News reports Senate Judiciary Committee Chairman Lindsey Graham, R-S.C., vowed to expose the anonymous whistleblowers against President Trump if Democrats move forward with impeachment; at the same time, he warned against Trump having China pursue an investigation of Joe Biden.
A second unidentified whistleblower was confirmed Sunday morning, reportedly with firsthand information to support some of the allegations another whistleblower made in a complaint filed in August regarding a July 25 phone call between Trump and Ukrainian President Volodymyr Zelensky. Graham said that if Democrats follow through on their desire to impeach Trump, he will make sure that the whistleblowers will have to come forward and testify.
"Here's what's going to happen: if the whistleblowers' allegations are turned into an impeachment article it's imperative that the whistleblower be interviewed in public, under oath, and cross-examined," Graham told Fox News' "Sunday Morning Futures," promising that "if that doesn't happen in the House, I'll make sure it happens in the Senate."
Graham pointed to the need for Trump to be able to confront his accusers, saying, "There can be no valid impeachment process unless the president can confront the witnesses against him."
The complaint accused Trump of using military aid as leverage to pressure Ukraine into investigating Hunter Biden's business dealings with Ukrainian energy company Burisma Holdings, and former Vice President Joe Biden's efforts to have Ukraine fire the prosecutor who was investigating the firm.
"I think it's ridiculous to say the president did something wrong based on the phone call," Graham said, adding that Trump did not suggest any quid pro quo tying the military aid to the Biden investigation, which was being spearheaded by Trump's personal attorney Rudy Giuliani.
This article was written by the staff of TheConservativeOpinion.com 
Source: theconservativeopinion
See more here: conservatives
loading...
If you like what we do, you can support us here:
Thank you and God to bless you!