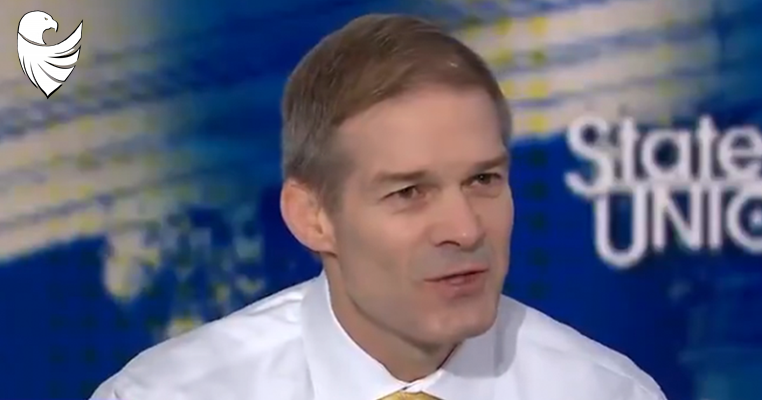 Appearing on CNN, Jim Jordan engaged in a tense exchange with host Jake Tapper.
During the exchange, Jordan explained why he's skeptical of the whistleblower's credibility.
Per USAToday, appearing on CNN on Sunday, Jordan, a vocal defender of the president and member of ultra-conservative House Freedom Caucus, dismissed concerns over the president asking a foreign government to investigate one of Trump's political foes, which led to the formal launch of an impeachment inquiry, and instead pointed to Biden's conduct and argued the whistleblower complaint, which brought to light a phone call where Trump asked the Ukrainian president multiple times about an investigation into Biden, was from someone without first-hand knowledge and mere hearsay.
"What I have a problem with is what the Democrats are doing," Jordan said, arguing that liberals wanted to move forward with impeachment before seeing the evidence and facts in the episode. Jordan argued the whisleblower "has no first-hand knowledge."
Tapper pointed out that while the complaint was filed by someone who did not have first-hand knowledge, everything in the complaint thus far has been true.
WATCH:
.@jaketapper presses GOP Rep. Jim Jordan about the facts of the President's phone call with Ukraine and calling into question the credibility of the whistleblower complaint. #CNNSOTU pic.twitter.com/ey5PrSKzTk

— State of the Union (@CNNSotu) September 29, 2019
Newsmax reports attacking the credibility of President Donald Trump's Ukraine call whistleblower, Rep. Jim Jordan, R-Ohio, rejected the Democrats' latest litmus test for an impeachment inquiry as flimsy.
"Two things you look at to determine the credibility of a so-called whistleblower: First, did they have firsthand knowledge? And second, what was their motivation? Was there some kind of bias?" Jordan told CNN's "The State of the Union."
"This individual has problems on both of those counts. He had no firsthand knowledge, he heard something from someone who may have heard something from someone . . ."
Host Jake Tapper, a former Democratic campaign press secretary, injected the whistleblower was not a first-hand source, but he had first-hand sources.
"But he has no first-hand knowledge," Jordan shot back. "And second, he has a political bias. That should tell us something about this guy who came forward with this claim."
This does not rise to the level of impeachment, according to Jordan.
"And now the Democrats are saying, because of this whistleblower, we're going to impeach the president," Jordan told Tapper, whose interview devolved into a partisan shouting match. "I say, look at the transcript, and the transcript gives you no reason to impeach this president, overturn an election where the people spoke loud and clear."
Tapper argued the intelligence officials deemed the whistleblower's second-hand complaint as a "credible," but that does not mean the whistleblower himself is credible amid claims of partisanship, according to Jordan.
"It's something that's critical when you're assessing if they're credible," Jordan told Tapper, admitting the complaint can be credible, but that does not necessarily mean the allegations are, because they came second hand and from a partisan. "That's a major determination."
This article was written by the staff of TheConservativeOpinion.com 
Source: theconservativeopinion
See more here: conservatives
loading...
If you like what we do, you can support us here:
Thank you and God to bless you!