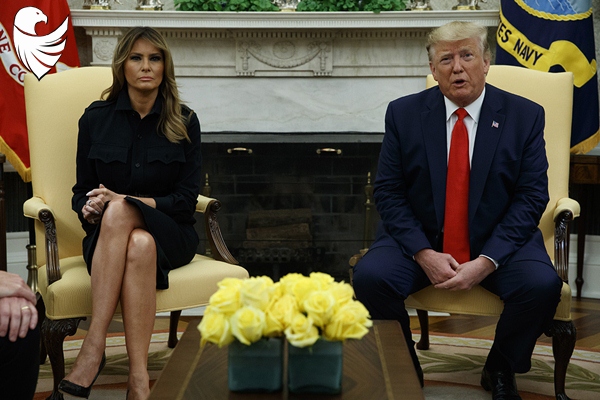 The usually reticent first lady Melania Trump took to Twitter on Monday to air her concern about a "growing epidemic" of teen vaping.
Her Twitter-addicted husband had already gotten the message.
The couple has a 13-year-old son and the first lady's tweet followed weeks of behind-the-scenes efforts to come up with a response to growing pressure over the explosion of teen vaping and the spread of a mysterious vaping-linked illness across the country.
President Donald Trump in the Oval Office on Wednesday unexpectedly announced a crackdown. Health and Human Services Secretary Alex Azar, sitting at his side, said that federal regulators would pull thousands of flavored vapes off the market until they go through regulatory reviews. That bar will be tough for many e-cigarette makers to clear, federal officials suggested.
The first lady was not the only driving force. Tackling teen vaping is one of those child health issues that appeals to a wide swath of voters — and Democrats have scheduled hearings and demanded prompt action from the Food and Drug Administration.
But Trump said his wife's pressure was key. In comparison with past first ladies, she has had a low profile on public policy. Here, in contrast, she persuaded her husband to dramatically shift the government's approach to a massive, growing and politically connected industry. That's something that neither federal regulators nor Capitol Hill had been able to do.
"Melania has the same concerns as any mom with a 13-year-old child," said a former Trump adviser who remains close to the White House. "Whether it's bullying or smoking … moms want their kids to be safe. And in this case, she whispers in the ear of the American president who can actually do something about this crisis that moms care about."
I am deeply concerned about the growing epidemic of e-cigarette use in our children. We need to do all we can to protect the public from tobacco-related disease and death, and prevent e-cigarettes from becoming an on-ramp to nicotine addiction for a generation of youth. @HHSGov

— Melania Trump (@FLOTUS) September 9, 2019
The new policy overrides resistance from some Republicans who promoted a more cautious approach to policing products they argue could be much safer than traditional tobacco. It's also a new direction for Trump's own administration, which had delayed e-cigarette regulation and been open to the argument that vaping nicotine is safer than smoking traditional cigarettes.
Going into an election year, the administration also was eager not to let vocal congressional Democrats like Sen. Dick Durbin (D-Ill.) own a high-profile public health issue at the expense of administration officials like acting FDA Commissioner Ned Sharpless.
"Durbin was relentless — and Sharpless was spineless," said one public health official, who asked not to be identified because he has worked with both Republican and Democratic officials on tobacco. "The Trump administration didn't want to see Durbin getting results, and Durbin getting credit."
The No. 2 Senate Democrat phoned Azar twice in the past week, both times urging him to ban flavored vaping products, according to a person familiar with the calls.
The concerns are being driven by fresh evidence that the teen vaping epidemic is getting worse and drawing in young teens around the same age as the Trumps' son Barron. The Centers for Disease Control's annual youth tobacco survey found that more than a quarter of high school students had used e-cigarettes in the past 30 days, and the overwhelming majority of youth e-cigarette users cited the use of popular fruit and menthol or mint flavors.
"We can't have our kids be so affected," Trump said. "That's how the first lady got involved. She's got a son … a beautiful young man, and she feels very, very strongly."
loading...
If you like what we do, you can support us here:
Thank you and God to bless you!