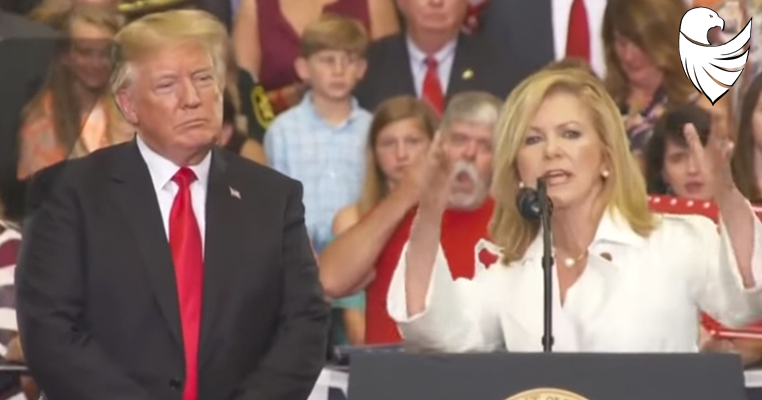 Appearing on Fox News, Marsha Blackburn defended Trump and called House Democrats "sore losers."
They lost in 2016, Mueller turned into a big nothingburger and now, ZERO evidence of a quid pro quo.
 
Talk about sore losers. cc: @HouseDemocrats
They lost in 2016, Mueller turned into a big nothingburger and now, ZERO evidence of a quid pro quo.
 
Talk about sore losers. cc: @HouseDemocrats pic.twitter.com/MZlQQEgMCY

— Sen. Marsha Blackburn (@MarshaBlackburn) September 30, 2019
In a subsequent tweet, Blackburn says "I've got a message for @TheDemocrats — Americans aren't blind to your obstructionist tactics."
I've got a message for @TheDemocrats — Americans aren't blind to your obstructionist tactics.

Tune in to @trish_regan @FoxBusiness at 8:15 pm ET/7:15 pm CT to get my full take on the impeachment inquiry.

— Sen. Marsha Blackburn (@MarshaBlackburn) September 30, 2019
Blackburn also defended the contents of Trump's controversial call with Ukranian President Zelensky in a phone call with reporters.
Leaf Chronicle reports U.S. Sen. Marsha Blackburn said Thursday morning she has not yet read the whistleblower's complaint that prompted House Democrats this week to launch an impeachment inquiry against President Donald Trump, but she does not believe the president asked for any improper favor from the Ukrainian government to interfere with the 2020 election.
On a phone call with reporters Thursday morning, Blackburn minimized the complaint, a document in which an unidentified whistleblower outlined concerns over a phone call between Trump and Ukrainian President Volodymr Zelensky in July.
Blackburn noted she understood the whistleblower "did not hear the phone call."
The whistleblower report was declassified earlier in the morning, though the White House released a transcript of the July 25 call on Wednesday, the same day Blackburn spoke on the Senate floor and referred to Democrats' impeachment attempt as a "breathless revenge scheme."
"If they move forward with it, they are going to do this at their own risk of alienating a lot of America," Blackburn said Thursday, referencing polls from recent months that showed a majority of Americans did not support impeachment at the time.
"Based on the transcript that was released yesterday, it seems that the House Democrats might have jumped the gun on this one."
"There is nothing in the report that is an impeachable offense, in the transcript of that phone call," she said. "When you look at the transcript and you read through that, there is not anything in the transcript that is a quid pro quo."
This article was written by the staff of TheConservativeOpinion.com 
Source: theconservativeopinion
See more here: conservatives
loading...
If you like what we do, you can support us here:
Thank you and God to bless you!