The Trump administration is awarding nearly $2 billion in new funding to states and local governments to help fight the opioid crisis.
Health and Human Services Secretary Alexander Azar says the grants come from money that President Donald Trump secured from Congress last year. Trump says "nothing is more important than defeating the opioid and addiction crisis."
The Substance Abuse Mental Health Services Administration is awarding $932 million to every state and some U.S. territories to help provide treatment and recovery services that meet local needs.
Separately, the Centers for Disease Control and Prevention is getting $900 million under a new, three-year program to help state and local governments better track overdose data. Forty-seven states and the District of Columbia are among jurisdictions sharing $301 million in the first year.
In announcing the move, White House counsel Kellyanne Conway told reporters in a conference call that their administration is trying to interject the word "fentanyl" into the "everyday lexicon" as part of their efforts to increase awareness.
Data suggests that of the approximately 2 million Americans suffering from opioid use disorder, approximately 1.27 million of them are now receiving medication-assisted treatment, according to the HHS.
"Central to our effort to stop the flood of fentanyl and other illicit drugs is our unprecedented support for law enforcement and their interdiction efforts," she said.
Conway then brought up the DHS seizures of fentanyl last year, which totaled an equivalent to 1.2 billion lethal doses.
"Ladies and gentlemen, that is enough to have killed every American four times," she told reporters.
Just weeks ago, The White House released a series of private-sector advisories aimed to help businesses protect themselves and their supply chains from inadvertent trafficking of fentanyl and synthetic opioids.
The four advisories aim to stem the production and sale of illicit fentanyl, fentanyl analogs, and other synthetic opioids. The advisories focus on the manufacturing, marketing, movement, and money of illicit fentanyl.
In March last year, the interior Department created a tribal task force aimed to specifically combat the crisis on tribal lands. Since then, the department has arrested over 422 individuals and the seizure of 4,000 pounds of illegal drugs worth $12 million on the street, including over 35,000 fentanyl pills.
Conway, in the conference call, described the epidemic of pain relievers as an "opioid and fentanyl crisis."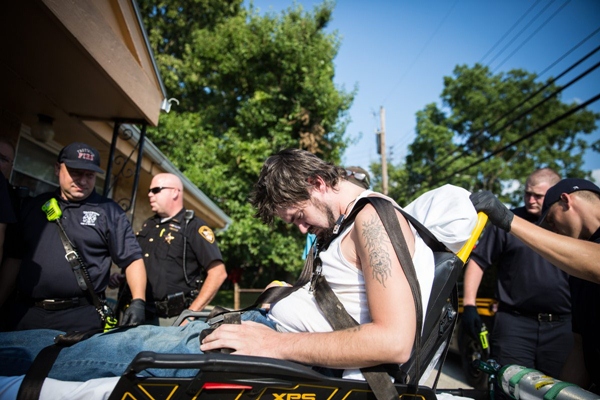 Local police, fire department, and deputy sheriffs help a man who is overdosing in the Drexel neighborhood of Dayton, Ohio, on Aug. 3, 2017. (Benjamin Chasteen/The Epoch Times)
Prescription opioid pain treatments and drugs like heroin and the more potent fentanyl were responsible for 47,600 U.S. deaths in 2017, according to the government, with only a small decline last year.
Drugmakers such as Johnson & Johnson and Endo International PLC are facing several lawsuits brought by states, counties, and municipalities that seek to hold the companies responsible for opioid abuse nationwide.
A judge on Tuesday rejected efforts by major drugmakers, pharmacies, and distributors to dismiss claims that they caused the nation's opioid crisis, clearing the way for a landmark trial even as the judge pushes for a nationwide settlement.
Epoch Times reporter Bowen Xiao, The Associated Press, and Reuters contributed to this article
Source: theepochtimes.com
See more here: conservatives
loading...
If you like what we do, you can support us here:
Thank you and God to bless you!