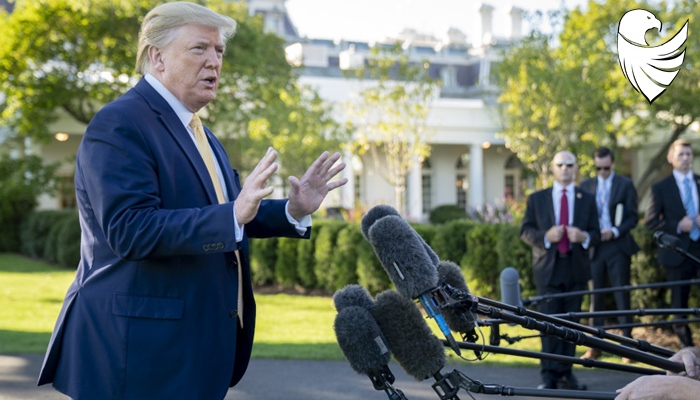 President Donald Trump's reelection campaign is taking Minnesota "very seriously" and thinks that the impeachment inquiry has caused an uptick in volunteers and donors, a senior Trump campaign official said in a phone call with reporters Tuesday.
"I mean, that's why the president was there last week because Minnesota was very competitive in '16. We didn't have any staff there. In fact, I think the Trump campaign had one staffer there who was then sent to Colorado in the following weeks. We already have staff on the ground in Minnesota now and are building out an infrastructure of paid and volunteers in Minnesota. You can just see with that record turnout for the president's rally last week we're obviously going to be competitive in Minnesota," the campaign official said.
Minnesota is one of a number of battleground states that the campaign thinks it "definitely" has a "shot at winning in 2020."
"All those states are obviously very important to us and because those states were so close that's even more reason why we're there earlier than ever before. They were competitive in '16," the senior campaign official said. "Now with his record, we feel we can be successful there again and will be successful there again."
The campaign plans to spend up to $30 million in the state. In 2016, candidate Trump's campaign spent between just $30,000 and $40,000 in Minnesota. The campaign already has 20 paid staffers in Minnesota and plans to increase that number to 100 by next year, compared to the lone staffer on the ground in 2016.
The campaign believes this will be enough to push President Trump over the edge in a state he lost by just 1.5 percentage points in 2016.
The official called the president's reelection campaign the "most cohesive field operation ever seen in presidential campaigns" and "the largest campaign in presidential history up until this point." The goal, according to the campaign official, is to be "one-and-a-half times larger than in 2016" and activate two million volunteers nationwide between now and 2020.
"At this point in time we've already registered more than half the amount that we did in 2016 as a field operation," said the official, who believes that the reelection campaign has "started earlier than ever before" and has "more resources than ever before."
The official elaborated on the many benefits President Trump's signature rallies produce for the campaign, apart from energizing voters.
"These rallies, as you all know, have a huge impact on these elections and galvanizing our support out in the field. It doesn't just help with our voter turnout like we saw in North Carolina. It really helps us do a couple things—voter registration at these rallies because we saw a lot of people that have been on the sideline for years and not participating in voting, and the president's message resonates with these voters and that's a good way for us to identify these voters and get them registered," the official said.
"Also, we have huge goals for our volunteers and this is a good way for us to identify our volunteers," the official added.
The president made it clear during a campaign rally in Minneapolis last week that he's determined to flip the state red in 2020, and the campaign thinks the Democrats' impeachment inquiry is helping.
"The overwhelming message is once you get outside the Washington, D.C. area and outside the beltway, the rest of the country does not see things the way the D.C. press corps sees them," said the official. "The only thing I can tell you is that with this second witch-hunt, this ridiculous talk of impeachment, I think it's getting more people off the sidelines because it's not something that people outside of D.C. want."
The campaign said its hearing from volunteers and staffers in the field about "how upset voters are" with the impeachment inquiry.
"In the last couple weeks, we picked up 50,000 new donors—50,000. I mean, that's unheard of. A lot of these people are not people who have given to campaigns in the past. They're new and I just think if I was on the other side, I think that would be a loud message coming from people outside of D.C. who are tired of these witch-hunts," the official said.
The official concluded by pointing to the recent $2 million combined ad buy from the Trump campaign and the Republican National Committee. All of the ads focus on "certain freshman members of the House of Representatives and their position on impeachment," including Minnesota's Rep. Angie Craig (D-MN-02).
"We wouldn't be focusing attention on all these freshman members of the House in their districts, which are Trump districts that the president carried, if we did not believe that public sentiment was against the Democrats," the official said.
Source: theminnesotasun.com
See more here: conservatives
loading...
If you like what we do, you can support us here:
Thank you and God to bless you!