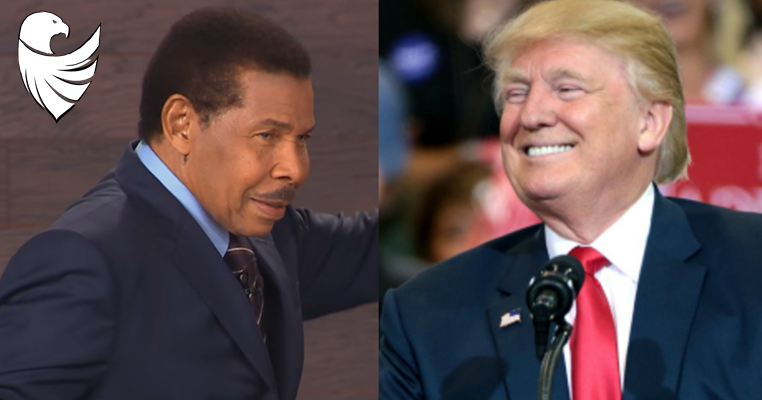 Recently, meeting with President Trump at the White House, African American pastor and activist Dr. Bill Winston discussed the president's criminal justice reform and economic policies are working together to help black Americans and inner cities.
Noting that around 1,700 people have been released from lengthy prison sentences and "right into a job," Dr. Winston also pointed out that law enforcement officials are now working to "bring financial literacy" into some of America's worst prisons.
"It is because of what you set up with the economic environment," Winston said to Trump, explaining that the rapid growth of the US economy lead to new jobs, prompting employers to be able to hire Americans whose lives would have been thrown away forever.
Dr. Bill Winston shared how President Trump's economy and criminal justice reform are working in tandem. Results, results, results!!!! A new concept to slow folks. Thanks to Trump in just 2years what was deemed impossible is now tangible and realized. #BlacksForTrump2020 pic.twitter.com/mJatPqA3Vp

— Trevwat16 (@trevwat16) July 30, 2019
Productive meeting with inner city Pastors at the @WhiteHouse! These Pastors have put their faith to work in their own communities, revitalizing inner cities and delivering positive results while working with President @realDonaldTrump on so many important initiatives.

— Vice President Mike Pence (@VP) July 29, 2019
Conservatives and Trump supporters reacted, with many pointing out that the mainstream media, while repeatedly accusing the president of "racism," has largely failed to cover these developments.
But he's a "racist" so says the Left!

— Joe spina (@Joespina24) July 29, 2019
Great president of US !

— Tuan A. Le (@TuanLe01052047) July 29, 2019
All it takes is to education, teach skills to give others a chance.

— Truth of Freedom (@TruthofFreedom1) July 29, 2019
🇺🇸Be the Town cryer and ring the Bell to Cummings and other Dems who play head games with the racist card ! No other President has done as much ? Have they ? Think about it ?

— Kathleen Stutz (@KathleenStutz3) July 29, 2019
Thank you President Trump for all you do!

— Mike M.🇺🇸 (@MikeM27076225) July 29, 2019
Chills.. Thank you president Trump, and everyone working hard to make this happen. Makes me believe anything and everything is possible when you work with others to lift people up. We all win with President Trump. #KAG

— Christiana (@CensoredAgain12) July 29, 2019
Thank you for saving America Mr. President! I'm Civil Engineering Tech. and I will be voting for you in 2020 from Louisiana 🇺🇸

— Legalshield Darren Huete (@LS_DarrenHuete) July 29, 2019
Why is this sound bite not on every single news broadcast nation wide? I know the answer, but still wish to pose the question! @CNN @MSNBC @ABC @CBSNews @NewsHour @NBCNews This is BIG NEWS! News that matters to Americans! Tell me WHY you're not covering this!

— Peter T (@pt40fathoms) July 29, 2019
By CK Heltzel
loading...
If you like what we do, you can support us here:
Thank you and God to bless you!