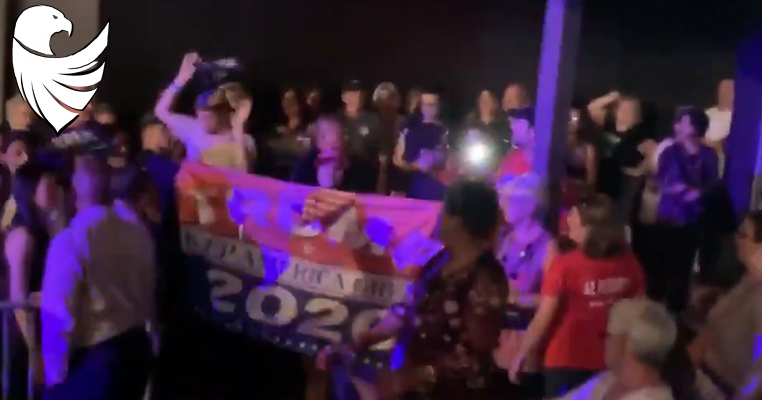 A anti-Trump man attending a Warren rally was handcuffed and taken away for his violent behavior confronting a group of MAGA supporters who crashed the event.
Per ABC, a man was arrested Thursday night outside of a crowded town hall event with 2020 presidential candidate Elizabeth Warren after he allegedly got into a dispute with members of a local group that supports President Donald Trump.
The man, who Tempe police declined to name, was arrested for "assault and disorderly conduct for confronting another subject at the event," said Detective Greg Bacon, a public information officer for the police department.
The group of Trump supporters included about five men and women who all said they were part of AZ Patriots, a Republican group which describes itself as "citizen journalists and fearless activists" on its Facebook page. They wore red "Make America Great Again" hats and T-shirts displaying the name of their local organization.
Jennifer Harrison, one of the group's leading members, said the man who was arrested "lunged" at them and "tried to grab a phone" from her partner's hand as they were escorted out of the event by security, about halfway through Warren's speech at the Marquee Theatre.
BREAKING: A man was handcuffed by police at the Warren town hall in Tempe, AZ, tonight after getting into a dispute with Trump supporters who were also attending. It happened as the Trump supporters (who wore MAGA hats and shirts) were asked to leave by security and led out. pic.twitter.com/ROGzilnklC

— Cheyenne Haslett (@cheyennehaslett) August 2, 2019
MORE: After a man got into a dispute with Trump supporters in the crowd at Sen. Elizabeth Warren's rally he was dragged across the lobby floor by security: pic.twitter.com/cfdzA8lOZs

— Cheyenne Haslett (@cheyennehaslett) August 2, 2019
By  Kambree Nelson
Source: theconservativeopinion
See more here: conservatives
loading...
If you like what we do, you can support us here:
Thank you and God to bless you!