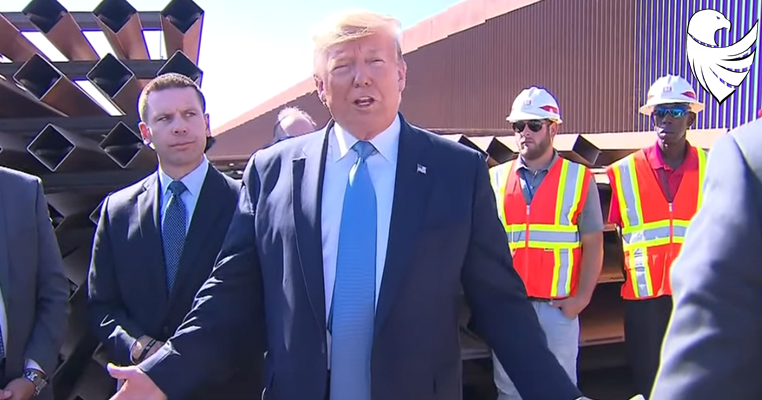 President Trump visited the the Otay Mesa border wall site today and held a press conference.
Trump was asked to sign the Border wall and obliged.
BREAKING: President Trump was just asked to sign the Border Wall, and of course, he did…
Now it is *officially* President Trump's Border Wall!
This. Is. Amazing. 
pic.twitter.com/eDaW2cONOb
— Students For Trump (@TrumpStudents) September 19, 2019
President Trump says the new border wall has 'wired' technology.
President Trump says new border wall has 'wired' technology.

"Sir, there could be some merit in not discussing that." pic.twitter.com/dw3H3d3Znk

— Breaking911 (@Breaking911) September 19, 2019
WATCH:
USAToday reports President Donald Trump completed a two-day swing through California on Wednesday by visiting the U.S.-Mexico border and claiming that recently completed border fence replacement would stop people trying to enter the U.S. illegally.
Trump, speaking to reporters, said people trying to enter the U.S. would not be able to scale the fence because it is designed to absorb heat.
"You can fry an egg on that wall," he said during his stop in the San Diego neighborhood of Otay Mesa.
A construction worker told Trump it is tradition for visitors to sign the wall. The president obliged.
Trump, who faced criticism earlier in his presidency for shifting positions on how he thought the border barrier would be designed, used some of his most forceful language yet to defend the "bollard fence" design that also had been used during President Barack Obama's administration.
"This is the one that was hardest to climb," Trump said.
Trump claimed "20 mountain climbers" were tasked with trying to scale the structure to test its effectiveness. But, he said, "this wall can't be climbed."
This article was written by the staff of TheConservativeOpinion.com 
Source: theconservativeopinion
See more here: conservatives
loading...
If you like what we do, you can support us here:
Thank you and God to bless you!