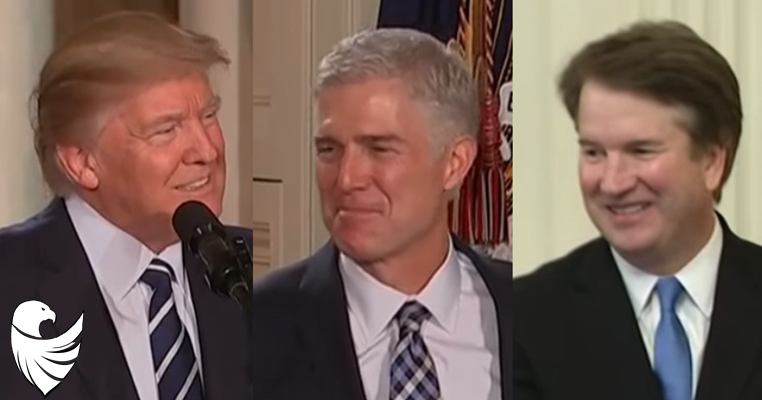 Moments ago, per NPR, the Supreme Court has allowed the Trump administration to use military funds to build sections of the president's desired border wall while litigation is ongoing.
A lower court had initially frozen the $2.5 billion in funds, and an appeals court had agreed. But the administration then asked the Supreme Court to review the freeze, and in a 5-4 decision the high court granted the stay late Friday evening.
That decision means the Pentagon funds can be tapped for now, so work can begin on four contracts that had already been awarded, which President Trump immediately tweeted was a major win for his signature campaign promise.
Wow! Big VICTORY on the Wall. The United States Supreme Court overturns lower court injunction, allows Southern Border Wall to proceed. Big WIN for Border Security and the Rule of Law!
69.3K people are talking about this
Trump supporters on social media reacted to the news with glee.
On Facebook Jessica Mercer wrote "Praise God."
Gregory Kvidera wrote "the vote should NOT have been so close, sad."
Jocelyn Minier wrote "wonderful news."
Trump supporters on Twitter were equally enthusiastic.
Benny Johnson wrote "The. Wall. Is. Being. Built."
BREAKING: HUGE VICTORY FOR TRUMP ADMINISTRATION

Supreme Court rules in FAVOR of President Trump on border wall.

Administration is *allowed* to use $2.5 billion in Pentagon funds to construct hundreds of miles of southern border wall.

The. Wall. Is. Being. Built.
398 people are talking about this
Roger Durant wrote "congratulations yet again to TRUMP on another Victory"
congratulations yet again to TRUMP on another Victory with the Supreme Court in overturning the lower court liberals and being able to utilize defense funds for the wall MAGA…hey AOC are you going to Super Glue yourself to the wall to keep him from building now???
See Roger Durant's other Tweets
The Supreme Court on Friday handed President Trump a major victory by clearing the way for him to divert $2.5 billion from the military's budget and use it to build an extra 100 miles of border wall in California, Arizona and New Mexico… #BuildThatWall
183 people are talking about this
loading...
If you like what we do, you can support us here:
Thank you and God to bless you!